Intrack Systems Australia Celebrates National Flag Day 3rd September 2013
To all the owners of a flagpole, here is your opportunity to show your national pride and fly the Aussie Flag Tuesday, 3rd September to mark the day of our flag's birthday.
September 3, 1996
The announcement that the Governor General had officially proclaimed 3 September as Australian National Flag Day was made at a special ceremony held at Martin Place, Sydney.  (read more)
Our Aussie Flag
The Australian National Flag was officially flown "aloft and free" for the first time at the Royal Exhibition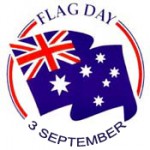 Buildings, Melbourne on 3 September 1901 in the presence of Australia's first Prime Minister Edmund Barton.
The design was the product of a public design competition held to find a national flag for the new Australian nation. At that time, following Federation, the sentiment freely expressed across the new states was of "One people, one nation, one flag".
That same sentiment is equally relevant today. (read more about Flag Day)
Australian Flag fact sheet
The publication Australian flags is available free of charge from the electorate offices of Federal Members of Parliament and Senators. (visit itsanhonour.gov.au) 
Intrack raises Frankston's EastLink profile
Frankston City Council at Carrum Downs receives 125mm x 10.0mtr Stepped Flagpoles.
Intrack Systems Australia won the tender to supply and install flagpoles on the EastLink Freeway on behalf of Frankston City Council.
The initial tender was for 8.0mtr flagpoles, however Intrack recommended a larger flagpole be used to have the capability to take a larger flag and therefore keep all flag sizes the same throughout Council.
Gumbuya Park sports flash new Rota Arm Flagpoles
Greg from Intrack noticed the existing flagpoles at Gumbuya Park were not rotating and therefore their flags always kept on ripping. Intrack approached Gumbuya Park and advised them of the situation.  As a result Gumbuya Park ordered Intrack's 60mm x 6.0mtr Rota Arm Flagpoles and, you can see for yourself, the results are eye catching!
"Thanks Janelle. I am so glad you called us and yes they do look great. Very Pleased. Thanking you guys" Deb Kluske. Gumbuya Park.
Do you know Intrack?
– We are based in Dandenong South
– We have been in operation for 17 years
– We are all Australian Made
Our services include: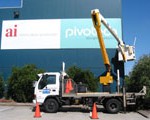 – Planning
– Installation
– Goal post & Flagpole maintenance
– Flag scheduling and storing
– Traffic management
– Boom and operator for hire