Hacer chooses Intrack for a design beyond the flagpole
by Janelle Harte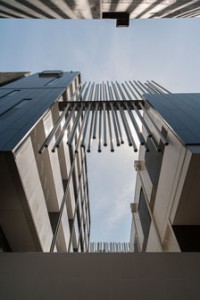 If you thought all Intrack could do were flagpoles, banner poles and sporting posts, think again.
After eight months of negotiation, Intrack received an order from the Hacer Group for 207 poles to be used as a roof feature on the Harvest Apartments, Clarendon Street, Southbank. It entailed four pole lengths, 7.0 metres, 5.7 metres, 4.8 metres and 4.2 metres, to be powder coated in three colours, green, grey and off-white.
Mark Hill worked on the specifications of poles and bases. Matt Keen worked on the pole design for customer sign off. Greg Harte, along with Alex Shrafat, fabricated the poles and individually packed and numbered them onto stillages, and I worked out the sequences in order of how the poles were to be installed on the roof.
Thanks to Glenn being flexible with Intrack and Hacer, the poles were delivered in two batches. Deep made the first delivery and Greg made the second.
The project went smoothly and is a credit to Aluminium Industries and Intrack for the level of expertise we have under our belts and our support network.
The Harvest Apartments will be entered into the Masters Builders Association Awards. The relationship established with the Hacer Group means we will get a commendation for the high quality product and level of customer service we provide.